SUNDAY LESSON, 9/17/17
JUST SPREAD THE SEED
Matthew 13:1-9
Why do we make sharing our faith with others so difficult?  The New Testament certainly doesn't lead us to believe that.  In fact, the book of Acts talks about the church adding and multiplying believers on a daily bases.   So why do we read of the early church enjoying such a steady growth of new people being brought to Christ, and today instead of growing the church is declining?   I think one reason is, we have made talking to others about Jesus much too hard.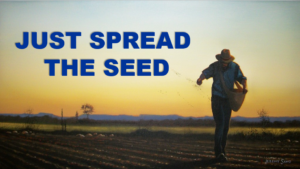 In the familiar "Parable of the Sower,"  Jesus wants His disciples to understand that a successful crop does not lie within the proficiency of the farmer.  In fact, the farmer just goes about flinging seed haphazardly with faith that some of the seed is going to find "good soil" and produce a bountiful crop.
Jesus wants us to realize that the power to produce the crop has nothing to do with the farmer (he's just a seed spreader), but in the seed itself.  The seed represents the Word of God.  It will accomplish what God desires as long as we fulfill our responsibility of being a mere "seed spreader."
Paul said, "I planted the seed, Apollos watered it, but God made it grow.  So neither he who plants or he who waters is anything, but only God who makes things grow" (1 Cor. 3:6-7).